Note: This article describes a previous version of this dashboard that will be deprecated on or around October 31, 2023. We advise switching to the inventory dashboards marked NEW in the Crisp Analytics menu. For help with the new version of this dashboard, see Store/DC Inventory dashboard overview.
To be profitable, food brands need to manage their inventory effectively. Having inventory data at your fingertips helps you make informed decisions and drive sales and profit. For example, the inventory dashboard can help you identify where you are carrying too much or too little inventory and help you determine if you have enough inventory for an upcoming promotion. 
This dashboard is divided into three sections:
Overview: See a snapshot of what's going on with your inventory.
Drivers: Understand the events that contribute to your inventory levels.
Details: Dig in to granular information that you can act on when inventory is running low or when planning for a promotion.
Overview
This section described each visualization in the Overview section. Use the following map of the screen to guide you.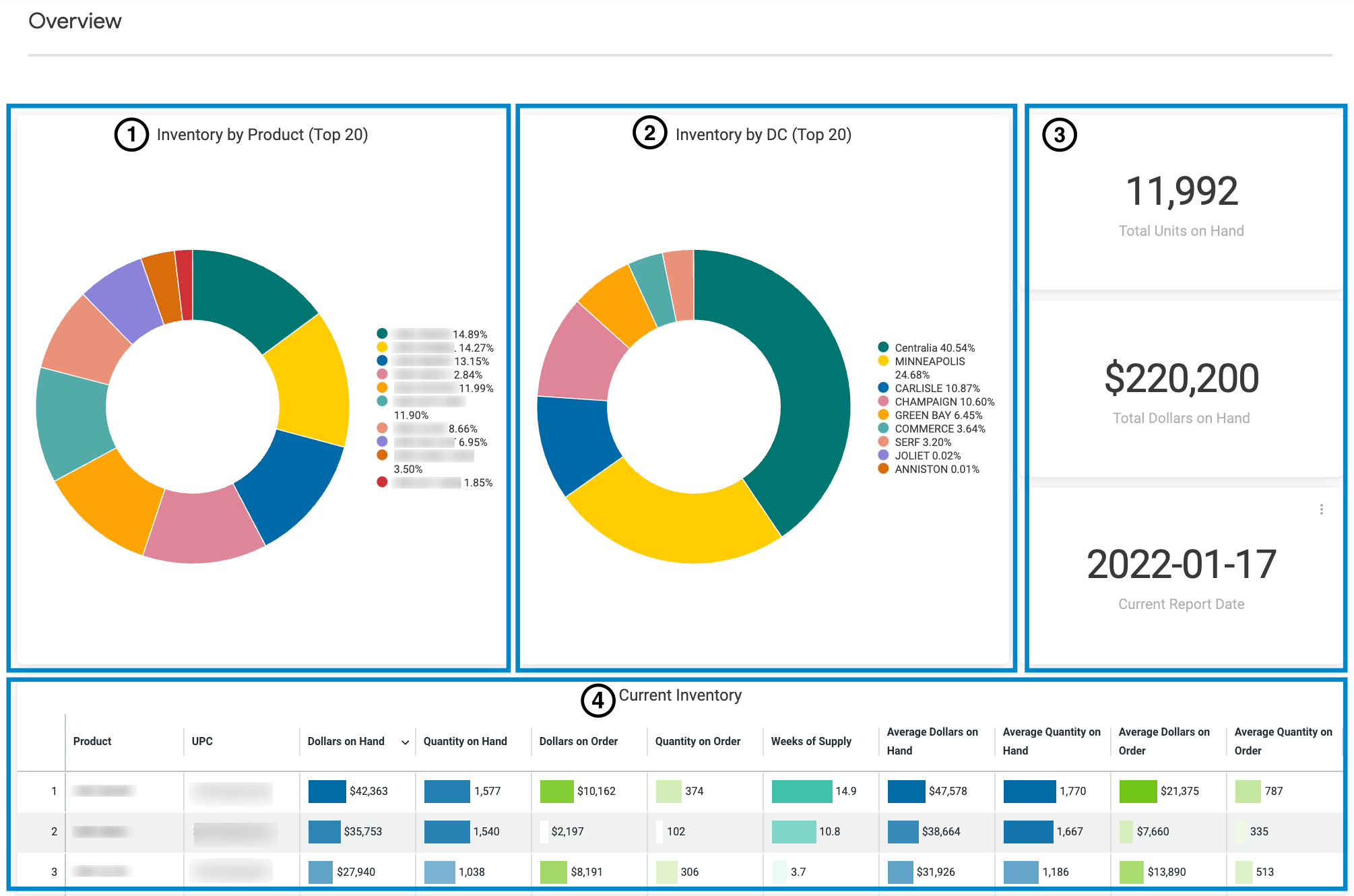 Inventory by Product (Top 20)
This breaks down inventory levels for your top 20 products and changes with other filters. For instance, you could see the product makeup of a specific DC by filtering by that DC and then viewing this chart. You can also hover for details or click a slice to filter by that product. 


Inventory by DC
The Inventory by DC pie chart shows which distribution centers your products are in and changes when other filters are applied. Similar to the above example, you could select a product of interest from "Inventory by Product (Top 20)" to see your inventory levels for that product by DC. 


Overview tiles
These tiles, which update with your filters, show the total cases and dollar value of your on hands. The Current Report Date tile displays when the data was last updated, providing context for your dashboard insights. 


Current Inventory
This table provides an overview of what's currently on hand and on order, averages for what's on hand and on order, and weeks of supply. The Weeks of Supply column uses the Lookback Period filter at the top of the dashboard to calculate how many weeks into the future your product should last based on shipping averages. 
Drivers
Inventory by DC 
This table offers a sortable breakdown of your inventory by distribution center.

Details
This sortable table displays products by DC and includes additional details to help you take action on your insights. To download the data in this table, hover over the last column in the table, then select the Tile actions menu icon ( ⋮ ) that appears and select Download data.